Welcome to a Family of Residential Roofing and Construction Experts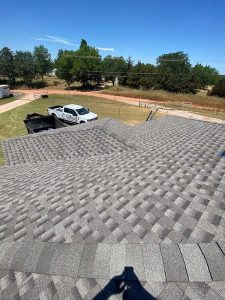 At Webber Roofing & Construction LLC, we are committed to providing our clients in Oklahoma City with the highest quality roofing and construction services in the industry. We have been in business for many years and pride ourselves on our commitment to honesty, integrity, and hard work.
Our vision is to provide the best roofing and construction services available in the area. Our mission is to exceed your expectations by delivering exceptional service at every step.
We take pride in our reputation for honesty and integrity, allowing us to develop long-standing relationships with our customers over time. We're passionate about making a difference in people's lives through our work—helping someone protect their family from the rain or snow outside or adding value to their home by improving its curb appeal.
Our Values
A passion for learning
Integrity
Honesty
Hard work
Professionalism
Our Services We Offer in Oklahoma City, OK
Residential Roofing: installations, repairs, and maintenance
Gutters
Concrete
Metal buildings and construction
Covered patios and pergolas
Concrete construction
Areas We Serve
Oklahoma City, OK
Edmond, OK
Deer Creek, OK
Yukon, OK
Mustang, OK
Nichols Hills, OK
Lakehurst
Midwest City, OK
Downtown OKC
Moore, OK
Norman, OK
Get a Free Estimate Today
At Webber Roofing & Construction LLC, we're offering a free estimate and free roof inspections to our loyal clients when they contact us. For all your residential roofing, covered patio, or gutter needs, give us a call at (405) 312-7929 or email us at shawn@webberroofingconstruction.com. Alternatively, you can get in touch with us on our online contact form. Our team will be sure to get back to you as soon as possible and will help you in the best way possible.